This awesomeness happened here in my home in Rhodes island Dodecanese. Because clay pots are here. And my mothers kitchen. That inspires me to make food like she does. Traditional, yummy as can be, full of flavour and bliss!
I do have a clay pot in Athens, but I don't use it! I must remind myself to cook food in my clay pot. Maybe if I put an alarm on my phone? 😁I am just hopeless you see. I forget about everything! But let's get down with this babe.
Simple ingredients, one pot.
The great thing about this is that you can do whatever you want with it! Highly flexible! Add peas, beans, eggplants, go crazy! You know my friends and close family think I cook crazy things all the time, but I don't! I love to simplify my dishes so much. Like this Stew my kids and my husband just loved so much I made it again the next day!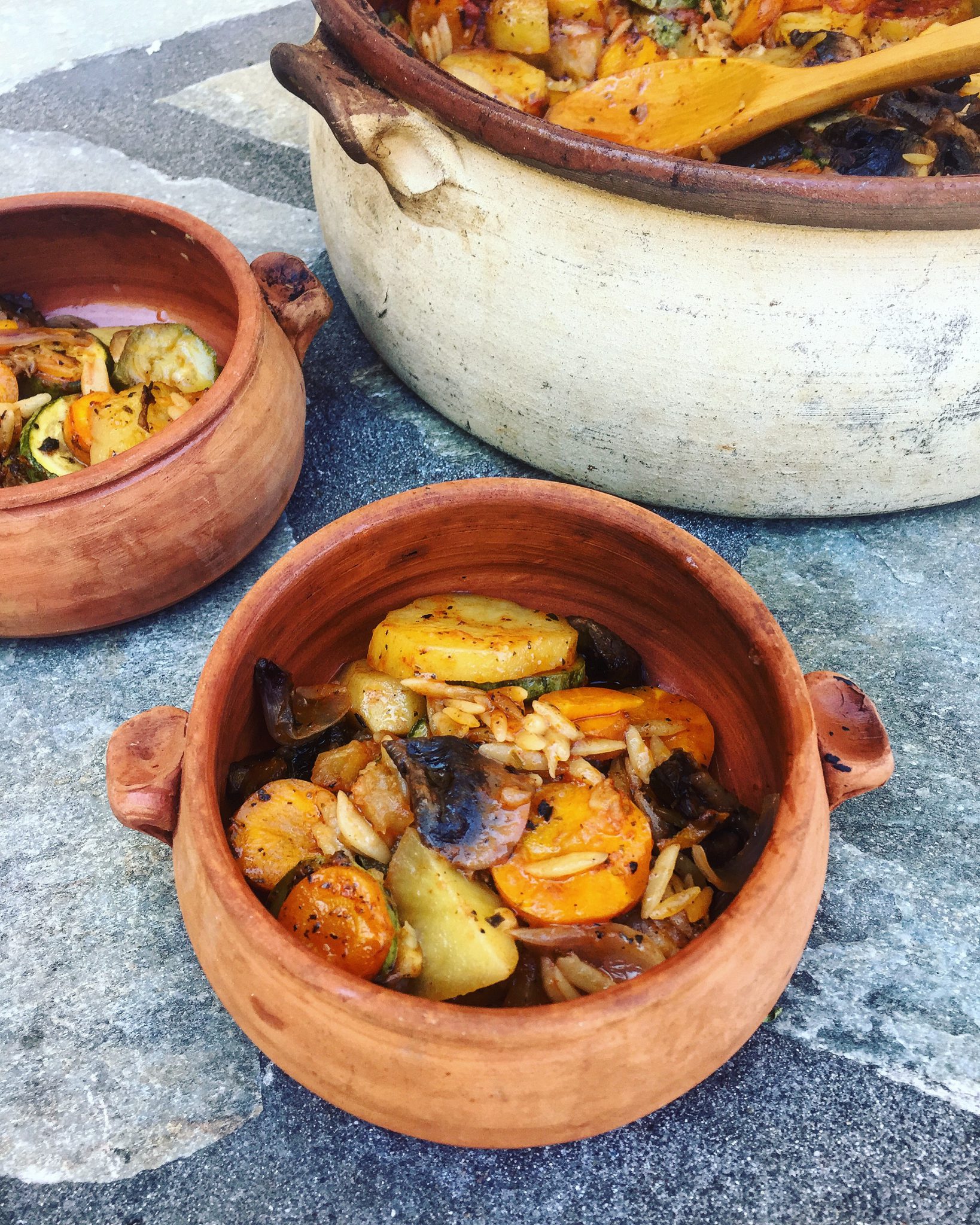 Ingredients:
zucchini, carrots, potatoes, mushrooms
1 medium onion
1 cup orzo
3 garlic cloves
1/2 cup olive oil
2 cups water
1 cup tomato sauce
1 tsp paprika
1/2 tsp pepper
1 tbsp mustard
1 tsp Himalayan salt
1 tsp oregano
1 tsp dried mint
Directions: 
Depending on the size of your clay pot, you decide on the amount of veggies you want to add. You should not overload the pot with veggies. Best is not to fill it over the 2/3 of its height. Cut veggies in coins, mash the garlic, add the onion and mix them up.
Now let's make the sauce: In a deep bowl put tomato sauce, oil, water, mustard and spices. Stir well to unite ingredients. Pour over the veggies. Lastly add the mushrooms on top. Cover with foil. Put in a preheated oven at 180 C for an hour. Then, check your veggies. If they are soft, it's time. Add the orzo on top and carefully shake the pot between your hands slightly till the orzo fells inside the sauce. DONT STIR! Your veggies will mash up! If you think the sauce is not enough, add some more water at this point. Now put in the oven covered again for around 20 to 25 minutes. Done! Best served in clay pot dishes! Cutest things right?!?